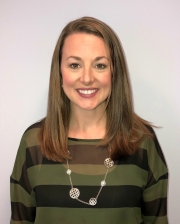 Hillerie Kandul–Hughes serves as the Office Manager for The Newburgh Group. Hillerie spends a lot of her time organizing and coordinating administration and office procedures for the team. Her primary focus is to ensure organizational effectiveness and office efficiency. Hillerie is responsible for streamlining administrative procedures, maintaining the company website including multiple social media platforms, managing HR, insurance and office policies. She assists in most daily activities. She has a passion for getting things done quickly and correctly.
Hillerie has a Bachelor's in Advertising and Public Relations from the University of Southern Indiana. She has spent nearly 15 years in Marketing, Communications and Advertising Sales.
When she's not busy keeping The Newburgh Group on track, she's busy being a mom of 4 children, balancing and juggling many sports and activity schedules.