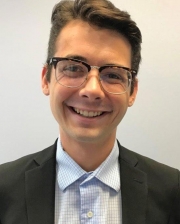 Justin Lyons is no stranger to the workforce and has a wide breadth of career experience in an equally wide range of industries. Having recently completed his first year in sales, he is excited to join his fellow search consultants, ready to grow in the business with his usual tenacity, responsibility, work ethic and charm.
Specializing in working with professionals in Accounting and Finance, he is able to cross over into many different industries.
Justin prides himself on his ability to make good and lasting impressions with candidates and clients, forming the foundation of strong, mutually beneficial business relationships. Eager to earn the respect and trust of every potential client and candidate, Justin seeks to be engaging and gregarious, while remaining ethical, understanding, and conscientious, especially regarding confidential information.
Justin earned his Bachelor's Degree from the University of Evansville and brings a unique approach to recruitment that clients and candidates alike have come to respect and appreciate.
Specialty:
U.S. based / Accounting and Finance / Controllers / Chief Financial Officers / Accounting Managers / CPA / CMA / Manufacturing and Automotive / Banking and Finance